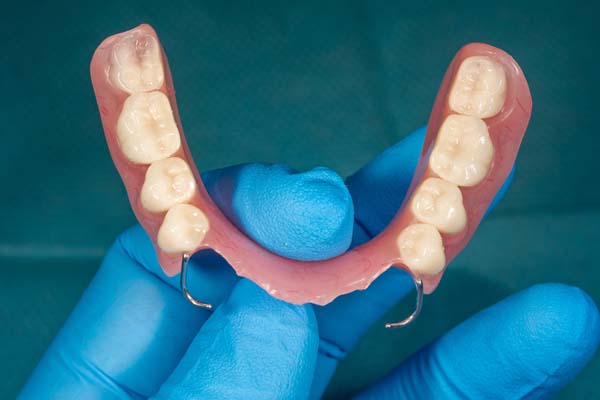 Partial dentures are often recommended by dentists to replace a single missing tooth or a section of missing teeth. They are a relatively affordable solution that offers unique benefits. This review discusses the reasons a dentist may recommend partial dentures for a patient.
Reasons to consider partial dentures treatment
Partial dentures can help patients improve their smile and confidence, prevent teeth from shifting after teeth loss occurs, and function better each day. This form of restoration can also help patients save money when compared to alternative solutions such as complete dentures or implant-supported restorations.
Improve the appearance of your smile
One primary reason individuals seek partial dentures treatment is because of the cosmetic concerns that missing teeth can cause. Partial dentures use natural-looking restorations that appear nearly identical to natural teeth. This means that no one will notice that the patient has missing teeth, allowing them to show off a more attractive and professional smile each day.
Keep adjacent teeth from shifting
One of the main concerns dentists have after a patient loses one or more teeth is that the other natural teeth in the mouth can begin to shift. Partial dentures help to prevent teeth from shifting by replacing the missing teeth with restorations. This can also help protect periodontal health by giving the gums (and jawbone) artificial teeth to support.
Function better with strong replacement teeth
Of course, eating is more of a challenge after teeth loss occurs. Partial dentures can restore the patient's ability to eat as they desire without chewing difficulties. Partial dentures often also improve the patient's ability to speak as well, in addition to giving them more confidence in social situations in general.
Increase your daily level of confidence
All too often, individuals who lose teeth also lose confidence in their smiles and do not enjoy themselves in social situations as much. Partial dentures can restore confidence and allow the patient to do the things they love without fearing how others will perceive the way they look.
Save money over alternative solutions
Many who could benefit from teeth replacement avoid treatment because they fear that it costs too much. While dental implants can become rather costly, partial dentures are a much more affordable teeth replacement solution.
Save time on the treatment process
Dental implants treatment can take more than six months to complete. The treatment process for partial dentures is not nearly as long. On average, partial dentures take between six weeks to three months to be personalized for the patient and returned to the dental office for the patient to begin wearing.
Schedule a partial dentures consultation with our dental team
Our dental practice helps patients throughout the partial dentures treatment process. If you have lost one tooth or a section of teeth and are searching for a reliable replacement with partial dentures, then contact us today to start the treatment process. We can find a convenient time for you to visit with us to discuss treatment.
Request an appointment here: https://www.fadimetridentistry.com or call Fadi R Metri & Associates at (617) 415-9350 for an appointment in our West Roxbury office.
Check out what others are saying about our dental services on Yelp: Partial Dentures in West Roxbury, MA.
---
Related Posts
May 12, 2017
An implant dentist can repair a tooth to enhance appearance and the overall function of one's daily routine. Implant DentistAs an implant dentist, we can provide you with a sturdy, effective and long-lasting dental implant. Dental …