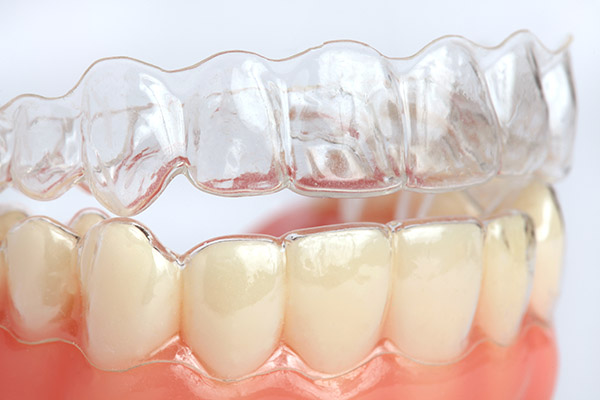 If you want a beautiful smile, then Invisalign® braces can be an excellent option for achieving this goal. There are many benefits to straightening your teeth with Invisalign®, but the most popular benefit is the fact that the aligners are completely clear. When straightening your teeth, it will be difficult for anyone to notice that you are doing so.
Invisalign is subtle…
This discretion makes it possible for you to maintain your appearance at work or to look your best on a date without worrying about the appearance of your teeth. We understand that many adults need to look a certain way for their professional or social life; Invisalign® allows you to do so.
Invisalign Treatment Facts
We encourage you to schedule a consultation with our office so we can go over what life is like when straightening your teeth with Invisalign®. We will answer any questions you have, explain the process in detail, and let you know whether or not you are a good candidate for this popular treatment option.
Look:
Before coming in, here are a few things to know about Invisalign:
#1 — Invisalign® works in complex cases
This treatment option is not only for people who have mildly crooked teeth. We can use it to close gaps between your teeth, straighten them, and address bite issues. The one thing Invisalign® cannot help treat is correcting bite issues that result from the actual placement of your jawbone. For this, you may need traditional orthodontics or even oral surgery.
#2 — Your treatment plan is established at the beginning
When you first visit our office, we will examine you and identify whether or not you are a good candidate for straightening teeth using aligners. If so, we will take measurements and digital images that can be uploaded into our computer software. We use this software to create a road map for where your teeth need to move, based on their current position. At each step along the way, an aligner will be used to move your teeth that much closer to being perfectly straight. By planning for everything at the beginning, there are rarely any treatment delays.
#3 — You can smile without anyone noticing you are straightening your teeth
Since the aligners surrounding your teeth are perfectly clear and removable, there will be no obvious difference to your appearance other than teeth that are gradually becoming straighter. You take your aligners out to eat, so there are no food restrictions or awkward moments that result from food in the teeth. This makes it possible to go on a date, have lunch with a client, or enjoy your favorite burger without discomfort.
#4 — Attachments may be necessary
Some people require attachments as part of the process. These small, ceramic squares are secured to specific teeth to help the aligners get a better grip on them so they can move into the proper position more easily.
#5 — Wearing a retainer is perfectly normal after Invisalign® braces
Retention is part of any orthodontic treatment, so you should expect to wear a clear retainer for a while once you are done.
Visit Fadi R Metri & Associates for Invisalign® Braces
To discover more about this process or to begin straightening your teeth, call for a consultation.
Request a dental appointment here: https://www.fadimetridentistry.com or call Fadi R Metri & Associates at (617) 415-9350 for an appointment in our West Roxbury dental office.
---
Related Posts
October 9, 2020
Considering Invisalign® to address crooked, crowd or protruding teeth? Invisalign® is a great teeth straightening option that has grown in popularity over the years. However, because it is still considered to be somewhat new to …
---