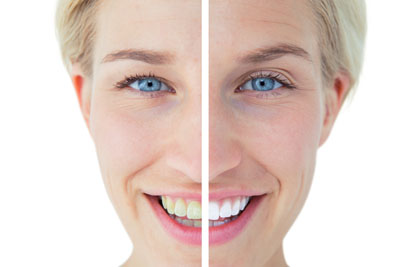 If you are interested in teeth whitening home kits, we invite you to call our West Roxbury dental office and schedule an examination. Teeth whitening is an excellent way to improve your appearance. It is common for teeth to become yellow and stained with age, or even to look dull in general. The older you are, the more likely that your teeth are no longer bright and white.
Fortunately, you do not have to live with this sign of aging when teeth whitening is so readily available. The key is to understand the differences between whitening products so you can select one that will produce the results you are looking for.
Home Teeth Whitening Process
It helps to first know more about the process and how it works. Most whitening solutions use peroxide. The type of peroxide differs from product to product, and the chemical makeup of the solution itself also varies. The kits available in the store will typically only remove the surface stains from the teeth. While this will make them look better, the product will not change the shade of yellow teeth.
Our professional-grade solution penetrates the enamel on the teeth so the molecules inside the teeth change. We do this by stimulating the process of oxidization so the molecules reflect less light and appear colorless. As a result, the smile will look bright, white, and beautiful. If the patient is looking for a dramatic transformation, then he or she will want to use teeth whitening home kits from a dentist. The dentist will be the only place to access a high-grade whitening solution.
Home Teeth Whitening Application
Patients will also need to consider how to apply the solution to the teeth. If a patient is buying a kit that has a pen or brush to apply the solution, then he or she will not see dramatic results because it will not remain on the teeth long enough. Whitening strips are better because they secure to the teeth. The challenge people have with strips is that they can slip out of place and lose their effectiveness.
The best teeth whitening home kits use whitening trays. This way, the solution remains in place longer and the patient will see better results. However, if patients buy the kits from the store, the trays will fit all of their other customers. Thus, it will not be as secure as we can make it and there is a risk of the solution leaking onto your gums, creating sensitivity. We recommend that patients purchase their teeth whitening home kits from a dentist.
We will create the trays for the mouth using an impression taken in our office. This ensures a perfect fit that is both comfortable and secure. The whitening solution will not leak, and the patient will have a better experience in general.
If you would like to learn more about this or an in-office whitening treatment, call and schedule an appointment.
---
Related Posts
August 14, 2020
If you are interested in at-home teeth whitening, then you might be wondering about the right way to do it. When you are getting a whiter smile, it is often better to get a kit …
---