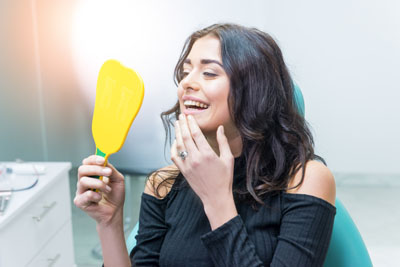 When you are ready to improve your smile, our cosmetic dentist office can provide the advice and treatment you need to attain your desired results. Continue reading to learn more about the procedures and care advice we offer.
Which of your cosmetic dentist procedures will give me the best smile?
We offer a variety of cosmetic dental makeover procedures that include, but are not limited to, porcelain veneers, tooth-colored fillings, teeth whitening, dental bonding, teeth contouring and shaping, crowns, dental implants, and dental bridges, which will help the patient achieve a more brilliant smile. Our cosmetic dentist office will look at the teeth, gums, and dental health history in order to create a customized treatment plan that will help patients achieve their dental makeover goals.
Are cosmetic improvements easy to care for?
Our cosmetic dentist improvements can be cared for in the same way as natural teeth. Patients should continue to brush and floss at least twice a day, and also maintain bi-annual visits to the dentist for professional cleanings and checkups. For most cosmetic improvements, patients should avoid consuming items that are overly sticky, hard, or acidic. If a patient feels like the cosmetic dentist work is sustaining damage or wearing down too quickly, visit our cosmetic dentist office as soon as unusual symptoms occur.
Is a professional teeth whitening any better than store-bought whitening products?
Our professional in-office and at-home teeth whitening treatments can quickly and efficiently whiten a patient's teeth per their specific shading desires. Our perfect balance of bleaching agents creates the dramatic results the patient desires in an easy-to-follow plan. Although store-bought whitening products do lighten stains, they will not produce the same level of results that our professional service can offer.
Are the cosmetic improvements you offer up to date with the latest technology?
We offer the most up-to-date services, along with the most tried and true methods, to improve a smile. We employ state-of-the-art technology and equipment to give patients the smoothest, most comfortable, and most successful treatment possible. Our cosmetic dentist procedures will leave the patient with a greatly enhanced smile due to a combination of years of experience and modern technology.
Do you include dental restorations in your cosmetic dentistry services?
We offer cosmetic improvements, as well as highly functional dental restorations, for your missing or damaged teeth. We use the strongest and most stain-resilient materials on the market to offer you the most natural-looking and durable smile possible. Our restorative techniques will last for decades or even a lifetime if cared for properly.
We hope these questions and answers have taught you more about the services and procedures our cosmetic dentist office offers to improve your dental appearance. To learn more, visit Fadi R Metri & Associates or contact us today at (617) 415-9350.
---
Related Posts
February 18, 2020
People who do not like the appearance of their teeth are recommended to visit a cosmetic dentist. These dental professionals use a combination of cosmetic dentistry and restorative dental procedures to repair and improve the …
---