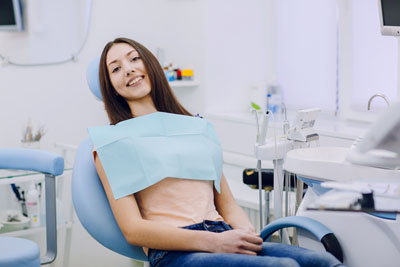 We understand that it can be difficult to find a dentist who genuinely cares about your family's needs. While most dentists do a good job of caring for teeth, we find that patients want to feel comfortable and relaxed during the appointment. We take the time to listen to patients in order to better understand their needs and concerns. No matter the reason for visiting us, our dental office can provide the dental care that patients need.
It is a bad idea for the patient to visit the dentist less than twice a year. Patients need to receive professional dental care at least once every six months. This frequency allows us to catch and prevent tooth decay and gum disease. The importance of routine dental care even goes beyond these needs.
Benefits of Regular Dental Care
Positive Oral Health
While quality dental care starts at home with regular brushing and flossing, visiting dentist can add to your oral health success. We can provide you with routine dental care examinations and cleanings twice a year to prevent the buildup of plaque and bacteria. These visits keep your entire mouth healthy and your smile vibrant so you do not have to worry about visiting for more expensive and time-consuming procedures later.
Yearly visits allow a quality dentist to monitor any concerns or changes to prevent future damage or disease. When you let your dental health get out of hand, you are compromising your overall health. If you let plaque and bacteria build up, it can cause periodontal disease, also known as gum disease.
Bleeding and swollen gums, halitosis, tender gums, sensitive teeth, gum recession, and loose teeth are only a few of the complications that result from gum disease. Periodontal disease can also cause your health in other areas to fail. It raises your risk for hypertension, infection, diabetes, and even heart disease.
Beautiful Smile
Routine dental care also keeps your smile beautiful. During your regular visits, as you desire, we can provide whitening and cosmetic improvement techniques to keep your smile attractive for years to come and to improve any areas of your smile that you dislike.
If you want to keep your first impression on others great, a healthy, white, and straight smile can help. In addition to pleasing others, a beautiful smile will boost your self-confidence.
Fewer Dentist Bills
Visiting dentist is not only beneficial to your health, but it can also be an advantage to your wallet. Small biannual expenses for checkups are nothing compared to the financial responsibility of waiting to see a dentist until you have serious decay, gum disease, or need dental implants. You can save money now by visiting for routine care instead of waiting until a problem already exists that needs to be immediately fixed.
You might be wondering:
To find out more about how routine dental care can benefit you and your lifestyle, visit our dentist office for comprehensive care. Together we can keep your smile strong, vibrant, and beautiful.
Request an appointment in our West Roxbury dental office here: https://www.fadimetridentistry.com. Call us at (617) 415-9350 for more information from Fadi R Metri & Associates.
---
Related Posts
December 8, 2018
If you truly value your physical appearance, it is very important that you take good care of your teeth, always. Even though this is easy to say, it takes a lifetime of consistent care for …
---