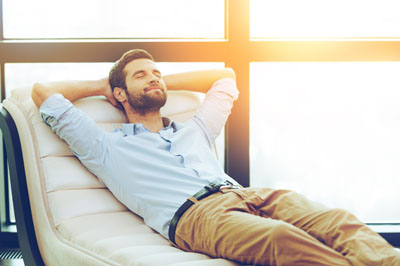 As a dentist in West Roxbury, we know that women are more likely to visit us for preventative care than men. This is in line with the common perception that men are less likely to visit the doctor in general. The Academy of General Dentistry conducted a poll to find out why a lot of men skip out on their appointments. Results for the survey come from dental professionals and patients.
Reasons Men Skip Dental Appointments
Only 5 percent of men do not receive teeth cleanings since they do not have a dentist. Another reason that men may not seek dental care is due to a lack of insurance.
Around 18 percent of men did not see a dentist because they felt like they did not have time to go in. This is a contradiction in perception and reality because not going to the dentist, exposes a person to having a future dental emergency that will typically require a more intensive and time-consuming procedure to correct. On the other hand, regular teeth cleanings only take around an hour, so this is a wiser course of action.
Another 30 percent of men had a dental phobia preventing them from visiting the dentist. We understand that millions of adults suffer from some form of dental anxiety due to a previous bad experience, very often a fear starting in one's childhood. Common or not, dentistry has improved significantly to the point that we can help our patients to relax prior to their procedure and ensure complete comfort during it. With that in mind, there is no need to fear a visit to the dentist.
The largest group, at 45 percent, said that they did not come in because they did not feel like it was necessary. As a dental professional, that is a fairly alarming statistic and shows how important it is to educate people as to why oral health matters. If you fall into this category, this is what you should know. –
Preventative Dental Care Is Important To Men's Health
Your digestion starts in the mouth so if you have an infection or a lot of plaque, you will eventually be swallowing it and sending it throughout your body. This may be what is causing the connection between heart health and gum health. Researchers find that the plaque on your teeth is the same substance that forms in your arteries, making it clear that it is important to prevent a lot of plaque from building up in your mouth. Simultaneously, they have found that 70 percent of those treated for heart disease also have gum disease, so the connection is a critical one.
We suggest that people also receive teeth cleanings at least twice a year due to how uncomfortable and inconvenient a toothache can be. By simply going to regularly scheduled dentist appointments, both men and women can remain in better oral health.
---
Related Posts
May 12, 2021
An abscessed tooth is one of the most troubling oral health concerns you could have. This condition not only can affect a single tooth, but it might spread throughout your jaw. If …
---