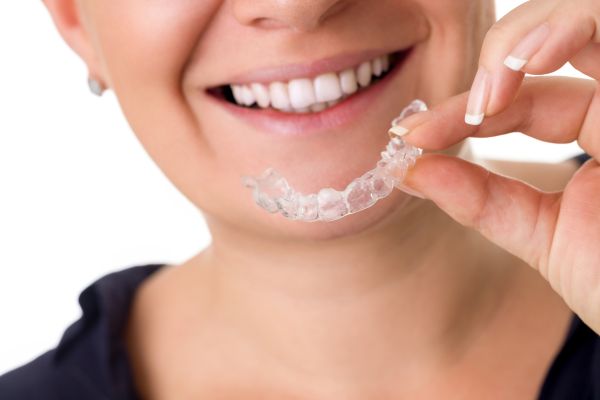 Considering Invisalign® to address crooked, crowd or protruding teeth? Invisalign® is a great teeth straightening option that has grown in popularity over the years. However, because it is still considered to be somewhat new to dentistry, some people are curious about what to expect from the treatment process. Keep reading to learn more about Invisalign.
Understanding Invisalign® treatment
Outlined below are a few things that patients can expect when preparing to undergo Invisalign treatment. This information can be helpful to review.
Flexibility
Patients undergoing Invisalign should expect to have a flexible treatment option that requires discipline. While the clear aligners are removable, patients are encouraged to wear them for at least 22 hours a day to ensure maximum results. It can be easy to take the aligners off and forget to put them back on, which can cause delayed results. Invisalign should only be taken out for eating and oral hygiene.
Comfort
Another thing to expect from Invisalign treatment is comfort. Traditional teeth straightening methods involve braces, which can be uncomfortable, resulting in soreness and sensitivity. However, with Invisalign the mouth adjusts quite well, resulting in little to no discomfort. Additionally, because Invisalign are whole appliances, the teeth shift altogether, which also means less pain and more comfort.
Ease
Invisalign is simply easier than other teeth-straightening methods. Patients undergoing treatment should expect easier maintenance as oral hygiene does not change much. The aligners are removed for brushing and flossing, and then put right back on afterward. Additionally, eating is a lot easier than with braces. Again, the aligners are removed and then placed back on after eating, brushing, and rinsing.
Dentists do recommend that the aligners are rinsed and cleaned once a day. A dental solution, gentle mouthwash, or saltwater can be used to keep the Invisalign trays clean and free of bacteria.
Fewer appointments
Another thing that patients can expect from Invisalign treatment is fewer dental appointments. Because the trays are custom-created at the beginning of treatment, patients are not required to see the dentist as often as with traditional braces. Oftentimes, the patient is provided with the entire series to start and check-in appointments are needed in order to monitor progress, however, they are typically only needed every other month or so.
Other things to note
Individuals that are considering Invisalign should also expect to be patient with the results. Most people hope to see results within a few days or weeks, however, that is not realistic. Instead, it may take a few months to notice a shift, which is completely normal.
Get started with Invisalign
Individuals that want to find out more about Invisalign® and what to expect from the treatment process can consult with a general dentist. Any questions or concerns can be addressed appropriately, and an evaluation can be done in order to determine whether Invisalign® is suitable. Contact us today to learn more or to get started with an appointment.
Request an appointment here: https://www.fadimetridentistry.com or call Fadi R Metri & Associates at (617) 415-9350 for an appointment in our West Roxbury office.
Check out what others are saying about our dental services on Yelp: Invisalign in West Roxbury, MA.
---
Related Posts
April 8, 2017
Invisalign involves clear plastic aligners that you wear over the teeth throughout the day. Does Invisalign Really WorkInvisalign uses a series of clear plastic aligners that are customized to the teeth of each individual patient. Invisalign …